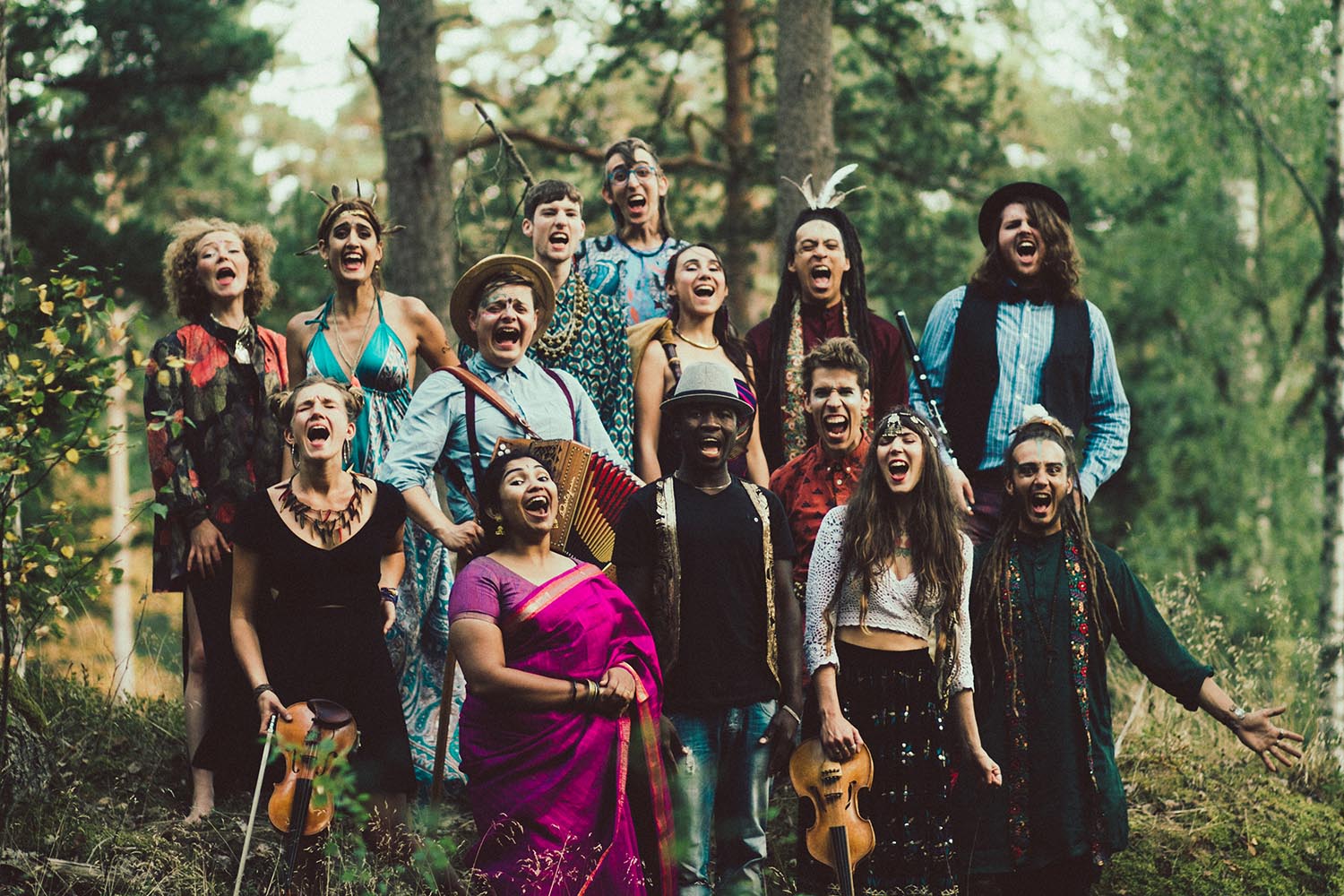 "Sweden's most exciting folk band"
– Songlines Magazine (UK)
Few bands, if any, can compete with Världens Band when it comes to diversity on stage: thirteen musicians from six countries and three continents. Together they have toured Europe for the past five years, released an acclaimed debut album (2015) that gave them the epithet "a Frankenstein's monster of world music" (Songlines magazine, 2016) and are beating all odds solely by existing.
"Five stars just aren't enough"
– Maverick Magazine (UK)
Indian percussion, Senegalese kora, Swedish fiddles, Galician bagpipes and Scottish flutes are just some of the flavours blending into the unique sound, self-branded as "Transglobal Roots Fusion".
In this all-star band of the new folk generation, one can find members of BBC Radio 2 Young Folk Award winners Last Orders, BBC Radio 2 Horizon Award nominees Rura and Swedish Folk Award winners Kolonien and Sallyswag, alongside winner of the All India Radio Competition Carnatic Devotional singer Charu Hariharan and rising star of the Senegalese Griot tradition Abdou Cissokho.
The band first joined forces in Stockholm in 2012 to share the music and to create new sounds, under the guidance of Swedish folk legend Ale Möller. They have since been nominated twice for Band of the Year at the Swedish Folk and World music gala, in 2016 and 2017.
In 2018 they released their second album Dadjalo, which was recorded live, to fully capture their high-energy live approach – now with more original compositions but, as always, deeply rooted in their variety of traditions.
"I'd urge anyone with an interest in hearing something truly groundbreaking and different to go out and see this band!"
– NE:MM Magazine (UK)