Womex 2018
---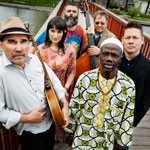 The members of Ale Möller Band have shifting musical backgrounds and together they create world music not necessarily rooted in each individual member's background, but rather in the strength of their musicianship.
During the last two years, Ale Möller Band have worked intensively, touring the Nordic countries, Portugal and Japan, and released the new album entitled "Argai" (which means "Welcome, come in!" in the West African fula language).
The album was released in the autumn of 2012.
Musically, the album contains each band member´s entire spectrum of musical influences. As with earlier album, the material weaves together new and traditional styles from all over the world together.
---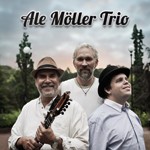 Ale Möller, Mats Öberg, and Olle Linder.
Sweden's best, and most constantly present multi instrumentalist, Ale Möller meets Mats Öberg, the pianist and keyboard player who plays whatever occurs to him. Olle Linder (percussion), another great folk musician in the folk music, makes the trio complete.
The band first saw the daylight during some sporadic summer gigs 2012. A mini tour during 2013 was an astounding success.
After that the band decided to work hard and to continue to explore a musical world that they have named "Folkfusion".
Ale explains it as "a music lab and venue for genre rock and loose musicians"!
The band has recorded new material due to be released in 2018.
---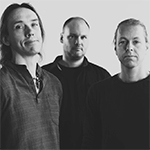 Bazar Blå – three master musicians from Sweden who have spent the last twenty years refning their sound and defning a space of their own in the world music scene. To celebrate 2016 they will release their 6th album and premiere a fully new repertoire.
Bazar Blå creates new music that manages to be just as Swedish as it is globally irresistible. Using percussion, bass-guitars, bass-mandola and nyckelharpa – an ancient Swedish folk instrument – this trio has many addictive ways of spellbinding listeners.
2016 marks their 20th anniversary as a trio. To celebrate this remarkable collaboration they have created a totally new repertoire, which will be released as their 6th album. Seven very intense years since their last recording serve as the backdrop of an extraordinary musical road trip and this next evolutionary step of Bazar Blå's unique sound.
---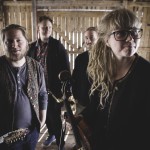 Bjäran's musical paths crossed long before the band was formed. The four members met at a young age through folk music courses, and their musical development began. This shared background has given them a mutual understanding of Northern Swedish folk music traditions, with a particular interest in the vivid harshness and melancholy of the landscape. Those early meetings paved the way for tight musical interaction and right from the frst rehearsal, their sound started taking shape.
Their unique soundscape reaches out to audiences and challenges the listener to see things from a new perspective. The dynamic combination of a broad tonal image and progressive foundation of train-like percussion creates the characteristic sound of Bjäran's debut album "Ack ve" (2014), which was well-received by both inside and outside the folk music community.
---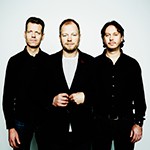 The Daniel Karlsson Trio have since their album debut Das Taxibåt in September 2013 established themselves as one of the most interesting constellations in Swedish jazz. Not least through the magnificent hat trick brought home by their sophomore release Fusion for Fish, released in August 2014. The album ended up winning them the Swedish Radio's jazz group of the year Award 2014, Swedish jazz magazine OJ's Golden Disc 2015 as well as the Swedish Jazz Grammy of 2015. Ears have been opened abroad as well, their music met with press accolades and frequent airplay in Germany, but also in the UK and Ireland.
This does not mean that the trio rest on their laurels. New music has been recorded through the Fall 2014 and the Spring of 2015 on Runmarö in the Stockholm archipelago and then honed to perfection at the brus & knaster studio in Stockholm. The result is now ready to be sent off into the world.
---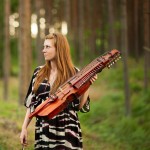 Emilia Amper is one of Sweden's most sought after folk musicians, Swedish and American Grammy nominee, Norwegian Grammy winner, Artist of the Year at the Swedish Folk & World Music Awards, World champion on the nyckelharpa, awarded National fiddler of the realm and winner of the Nordic Composer's award the NPU Prize. In her music, a deep knowledge and love for traditions meet an endless, open-minded exploration of the nyckelharpa's possibilities. With her charisma, virtuosity and energy she moves with ease across stylistic boundaries and touches people in both small and big venues across the world.
Emilia Amper Band features her own music for nyckelharpa, vocals, string ensemble (from trio up to full symphony orchestra) and percussion. She also plays with various Nordic folk and world music ensembles such as ODE, The Forbidden Orchestra and Frode Haltli's Grenseskogen. She has performed as a soloist with classical orchestras such as Västerås Sinfonietta, The Trondheim Soloists, Camerata Nordica and Trondheim Symphony Orchestra, with Swiss famenco company Flamencos en route and Ballett am Rhein in Düsseldorf, with Kurdish, Indian, West African, Persian and Arabic musicians, as a studio musician and with pop/rock and jazz musicians. She is also a popular teacher in Sweden and abroad, gives workshops in nyckelharpa and Swedish folk music and teaches regularly at the Royal College of Music in Stockholm.
---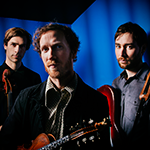 Norwegian fiddler Erlend Viken has teamed up with guitarist Marius Graf and cellist Leo Svensson Sander, creating an original expression that really stands out. This led to a long string of glowing reviews for their albums Frie Tøyler (Free rein) in 2014 and Nykomlingen (The newcomer) in 2017.
¨Spacious and rugged stuf from Norway¨. ¨Nykomlingen is a truly collaborative, adventurous CD¨ -Songlines
¨One of Norway´s hottest bands¨ -Svenska Dagbladet
"This is music that hits home whether you're a fan of folk, rock or blues," -Adresseavisen
"The strength of the compositions and the power of interaction creates a music of pure genius, " -Bladet Folkemusikk
"There are tracks here that take their place on any best of-playlist you can imagine," -Lira
---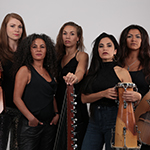 Five powerful, brilliant and ground breaking artists in an alliance to explore musical paths, spread equality and unite people through music.
The Forbidden Orchestra is an open-minded and warm-hearted oasis where musical traditions meet and inspire each other.
Based on norm breaking artistry, powerful stories and the will to promote peace and freedom of speech, The Forbidden Orchestra give a performance filled with joy, sorrow and mesmerizing grooves moving across all borders.
WELCOME TO A MUSICAL KNOCKOUT!
---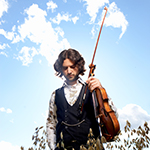 Gjermund Larsen enjoys a position as one of the most respected and active performers and composers on the contemporary Norwegian folk music scene.
In 2002 he became the youngest fiddler ever to win the Norwegian Championship in traditional folk-fiddling, and in 2011 he was nominated for the Grammy Awards in the category "small ensemble performance" together with the Trondheim Soloists. Together with double bassist Sondre Meisford and pianist/organist Andreas Utnem, Larsen formed the band Gjermund Larsen Trio The three band members represent a wide range of genres, ranging from classical and contemporary to jazz and pop, as well as traditional folk music. A diverse background that results in a highly aesthetic and rewarding sonic landscape.
In 2008 they received the Norwegian Grammy for their debut-album "Ankomst", and their second album "Aurum" (2010), was nominated intwo categories. Gjermund Larsen Trio´s last album "Salmeklang" released in 2016 was nominated for the Norwegian Grammy. Gjermund Larsen won the award for "Composer of the year" (2017)
---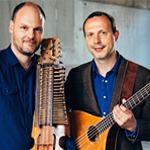 Hazelius Hedin – New Folk Star Duo
Two of Sweden's most established folk musicians make up the duo Hazelius Hedin. They sing and play their Swedish folk music with passion, rare ease and unquestionable presence – it's impossible to remain unaffected.
Esbjörn Hazelius (violin, cittra, guitars) and Johan Hedin (nyckelharpa/key fiddle) both grew up in the south of Sweden, where the traditional couple dance "slängpolska" prevails. But they search all over Sweden for their repertoire, which includes everything from medieval ballads, sailor songs and love ballads to instrumental dance tunes. Moreover, Hazelius and Hedin also pass on the tradition through their own compositions. They arrange the music carefully, often inspired by Esbjörn´s Irish tradition of music arranging, and constantly look for new instrumental harmonies.
They recently released their critically acclaimed new album, "Sunnan".
---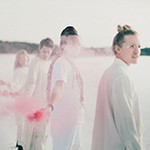 Kolonien is a four piece family band that grew up with the Swedish folk music deeply embedded in the family. Ale Möller, who is a Swedish living legend of folk and world music, is the father and uncle of these four cousins that started already in their early teens, then as Dylan-inspired protest singers in the green movement of Sweden. In 2010 they got invited to play at a festival at Zanzibar where both the music and their lyrics developed to form the very charistic sound of Kolonien- dynamic compositions that enters the twentieth century, but still stays true to the roots. 
---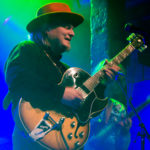 When he was ten, Knut Reiersrud recorded Miles Davis and Mikael Urbaniak from the radio on his sister's cassette player. Two years later, he and his brother bought themselves guitars after seeing Buddy Guy and Muddy Waters on TV. At eighteen, Knut became an overnight sensation when the same Buddy Guy and Otis Rush, having heard him for the frst time, embraced him and immediately invited him home to Chicago.
Knut Reiersrud (1961) is known to most people as a guitarist. It's now over thirty years since he had the honour of playing with his legendary heroes. Since then he has played at 6,000 concerts, made more than 300 records, and 14 under his own name, and in between times learned to master ten diferent string instruments. The problems arise when you try to explain what kind of guitarist he is. A man who always travels around with eight guitars because they have been tuned diferently according to where the music comes from is versatility personifed.
---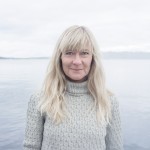 Lena Willemark has become a central figure within the Swedish folk music, and is crossing the borders between genres in a revolutionary, yet unforced, way.
She is the worlds most sought after Swedish folksinger.
Lena Willemark bears a unique music treasure from her roots in the Swedish area of Älvdalen.
Willemark sings, plays the violin and composes music. Over the years, she has worked with several musicians in many different genres. Frifot, Elise Einarsdotter, Karin Rehnqvist, Anders Jormin, Ale Möller, Marilyn Mazur, Kirsten Bråten Berg, Det Norske Kammerorkester, The Royal Philharmonics and The Gothenburg Symphony, to name but a few.
Willemark has been awarded with four Swedish Grammys and nominated for the Nordic Music Prize.
---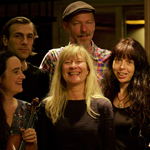 Blåferd? (The Blue Journey) is a mesmerizing album from an always adventurous Swedish singer and violin player. Lena Willemark was inspired to write music for a Euroradio Folk Festival commission, after reading Siri Hustvedt's book "The Shaking Woman." Hustvedt (a Norwegian studies professor) wrote about a recurring neurological condition which, when it occurred, would leave her shaking. As she undergoes treatment, Hustvedt wonders about her condition. Is it physical? Solely 'mental?' Both? Or a manifestion of memory? In short, what Willemark seems to have taken away from Hustvedt's work is the concern for the outward life, and the submerged inner life. Willemark includes a quote from Hustvedt in the liner notes:
"Around and beneath the island of that self-conscious storyteller is a vast sea of unconsciousness, of what we don't know, will never know, or have forgotten."
---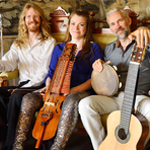 ODE is a band with a sound full of rhythmic influences from Sweden, West Africa, Brazil and the Middle East and focuses on groove.
ODE consist of three glimmering stars in the Swedish folk music sky: Olle Linder (percussion, guitar, vocals), Dan Svensson (percussion, vocals, guitar) and Emilia Amper (nyckelharpa and vocals).
Their chemistry, as people and musicians, is extraordinary and they build their repertoire solely on original, newly composed, material. The lyrics have a contemporary feel, and are inspired by things that concern us here and now. Their debut album was released in June 2013 and have been touring since, in the Nordic countries, Europe and the US.
---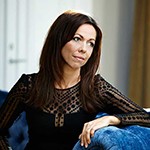 Rigmor released her critically acclaimed "When you make med smile" (2014) together with Dalasinfoniettan. This is her tenth album.
UK newspaper The Guardian has called Rigmor Gustafsson "penetratingly delicate, and subtle," and she continues to establish herself as one of the leading jazz vocalists in Scandinavia.
Since 1997, she has released 9 CD's of which three have gone gold in Sweden, the first jazz artist to have that honor since Monica Zetterlund's 1991 classic Varsamt.  Rigmor's "Alone with You" (2008) won a Swedish Grammy, and "I Will Wait for You" (2003) received The Jazz Award in Germany.
In November 2013 Rigmor received the most prestigious jazz award in Sweden, "The Royal Musical Academy's Jazz Award".  Her new album, "When You Make Me Smile" featuring a piano trio and orchestra, was released in August 2014.
---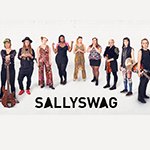 Sallyswag is a new, young and challenging world music band oozing energy, artistry and attitude. Combined, the diferent members' backgrounds in various cultures and musical genres create something entirely new. Driven musicians with roots in dance hall, rap, Afro, Balkan and Swedish folk music, and newly written lyrics in Swedish, result in a vital and important music that flls a void that has previously existed on the Swedish music scene.
The band's front woman is Aurelia Dey, a raggazonto queen from Gothenburg and Ghana. Already an established name on the reggae and dancehall scene, she is currently studying world music at the Academy of Music and Drama at the University of Gothenburg. Sanna Eriksson alternates between and backing vocals. Originally hailing from the Jämtland region, she has a voice that's smooth as silk, and a love of latin fow with cool lyrics in Spanish and Swedish. Erika Risinger handles violin and backing vocals. She is a freelance "riksspelman" (national folk musician) with one foot in the region of Dalarna, one foot in the region of Skåne, and "a hand" i Bulgaria. Freelance bass guitarist Nadina Pundins has spent a lot of time learning about the music of Mali and Cuba. Susanna Risberg is a young, but renowned electric guitarist who has currently an album out by her own jazz trio. In 2011, she received the prestigeous Jimi Hendrix Award.
---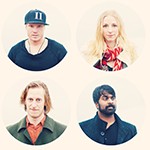 Skenet is a band consisting of four young and fearless Swedes, who grew up together in the vibrant Nordic folk music scene that provides the roots of their sound. As kids, playing the violin together, they became fast friends, while exploring the language of music. Today, the collaboration – like their friendship – continues to grow.
In Skenet, that violin still creates the melody and voice, but adding drums, electric guitar, bass, and Moog makes for a unique combination of Nordic roots music and electric rock. While some of the melodies date from the 1800s, most are original compositions by siblings Lena and Stafan Jonsson. The themes may be inspired by a rich tradition, but the end result is something entirely new: instrumental, folk rocking, and psychedelic!
---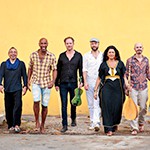 Tarabband, a word game on Tarab and Band, is a six-member group founded in 2008 by Iraqi Egyptian Nadin Al khalidi and Swedish Gabriel Hermansson in Malmö, Sweden. A cross-cultural musical experience resonating tarab; the universal feeling when emotions and music become one. Tarabband's music takes of from Malmö, travels via Paris and the Mediterranean to Cairo and Baghdad creating the band's original compositions and sound.
The group's front figure and vocalist Nadin Al khalidi (awarded "Tradition bearer of the year" at Swedish World Music awards 2014) fed from Iraq in 2001 arriving to Sweden as a refugee. Her lyrics merge political and social topics along with questions around identity, survival and love; always striving for peace and tolerance between the diferent cultures. Weaving the personal element into the songs allows Nadin to share stories and her stories of war: "Some people and stories we never hear of. The least we could do is share their stories."
---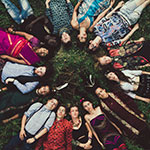 The band is made up of members of BBC Radio 2 Young Folk Award winners Last Orders, BBC Radio 2 Horizon Award nominees Rura and Swedish Folk Award winners Kolonien, alongside winner of the All India Radio Competition Carnatic Devotional singer Charu Hariharan, rising star of the Senegalese Griot tradition Abdou Cissokho and members of Swedish folk quintet Abra Makabra, Since the start in 2012 Världens band has carried out four highly successful tours of Sweden, playing at all of the major folk festivals, and two UK tours, where they have created an enthusiastic following after twice playing at Sage Gateshead, headlining Musicport Festival, and appearing at venues and universities across the country, including Band on the Wall, Rich Mix and Belgrave Music Hall.
---