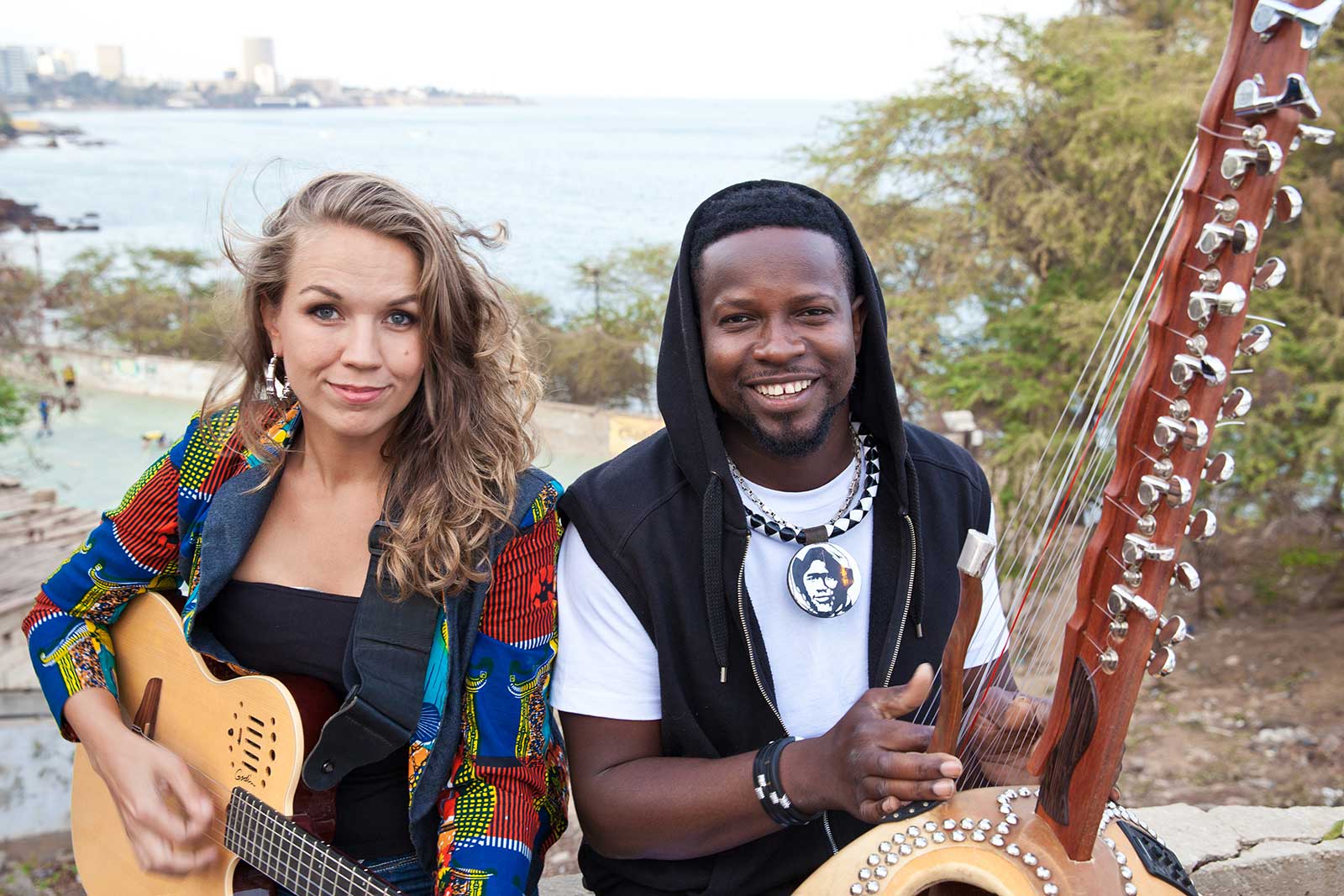 Multiple award-winning Senegalese/Swedish duo, crossing borders in their music just like in their life together – constantly on the move, with musical and human meetings as their principal driving force. Maher was born to play kora and Sousou is one of very few female kora players in the world.
Sousou & Maher Cissoko, from the south of Sweden and the south of Senegal, is one of Sweden's most appreciated world music groups. They have been touring in Canada, USA, Africa, Asia and various countries in Europe and performed at jazz, folk, world and city festivals, concert halls, clubs and schools.
Both Swedish television and the Swedish radio have done documentaries about Sousou & Maher Cissoko and when Youssou N'Dour received the Polar Music Prize they sang him to tears, performing two of N'Dour's songs together with the Swedish hip hop star Timbuktu.
Sousou and Maher both grew up in families of musicians and it was the interest in and love for the West African kora (a harp lute) that brought them together. An important guideline for the troubadour culture – which the kora is part of – is the preservation of the musical heritage through its musicians continuously finding new ways. In the interpretation of Sousou & Maher Cissoko it means magnificent kora playing and soulful singing, combined with a rhythmic energy and influences from reggae, folk, soul and jazz.
As follows from the heritage of the Cissoko family of West African storytellers, the songs bring about an important message of coming together and creating links instead of boundaries between countries and people. This is further stressed by the duo singing in five different languages. Their music is just as borderless as the life they live together.
– We are constantly working on finding and developing our expressions, creating our own songs, opening our hearts and finding our own voices. Times change and we are living in a global world where everything is connected. We want to continue to give comfort, share hope and love around the world!
Press quotes
"This is the third album by the creative couple Cissoko, a follow-up to the record Stockholm-Dakar from 2011. Sousou is from Scania and Maher from Senegal. Together with musician and producer Andreas Unge, they create airy and soft music inspired by the Africa they both love. The character instrument that gives the album its shimmer is the harp-like kora. There's a tranquil feel-good vibe all through this album. A soft groove with sparkling sounds." – Bo Levander
What does the audience say?
"Your voice is like water, pouring out of a rippling bottle."
"Thank you for a terrific release concert. Your music, your earnestness and the interplay of the ensemble is moving. You offer courage, creativity and loving joy. It was fun, beautiful, and game me a sense of belonging – solidarity."
"Your music is an open channel of love and presence, you convey so much warmth."
"Ca fait vibrer le coeur!"
"To listen to Sousou & Maher Cissoco and band is liberating, like a journey. It's like a breeze from a larger world, full of hope and trust. The soulful combination of the kora and voices convey joy and vitality, but also sorrow. I don't believe it left any listener indifferent."
"Some of my students were at the concert in Kungsbacka. One of them said it was the best concert she's ever witnessed in her life"
Some of the public nominations for the Folk & World Music Gala:
"To mix Swedish and West African music with such beauty and accuracy, thereby creating something brand new and unique, is something Sweden can be proud about."
"Music with feeling."
"Really good musicians with great variety and presence."
"From the thousands of years old Griot tradition, the kora playing has established a new link into our future. This is beyond inspiring and gives us hope."
"With a humility and respect for musical and cultural traditions, their music becomes a tribute to a bygone time, while at the same time being innovative, with a positive message about respect and love to the people of our planet."
Sousou & Maher Cissoko – for children
In West Africa, stories are being told accompanied by the beautiful sounds of the kora. Maher Cissoko from Senegal was born into a famous family of kora players and Sousou, from the Scania region of Sweden, is one of few female kora musicians in the world. Together, they perform two concerts for children and youths:
In one concert, for children from the age of five, the duo throw us straight into a mesmerizing world of songs and stories, with roots from the Middle Ages. A family concert for both young and old, that has been touring for several years in concert halls and schools.
In a storytelling concert for 6th-9th grade students, the duo play songs about leaving one's homeland and family, with expectations of succeeding abroad, about plight and poverty, but also about the strength in believing in oneself, to dare to love and to devote oneself, beyond all prejudice and fear.