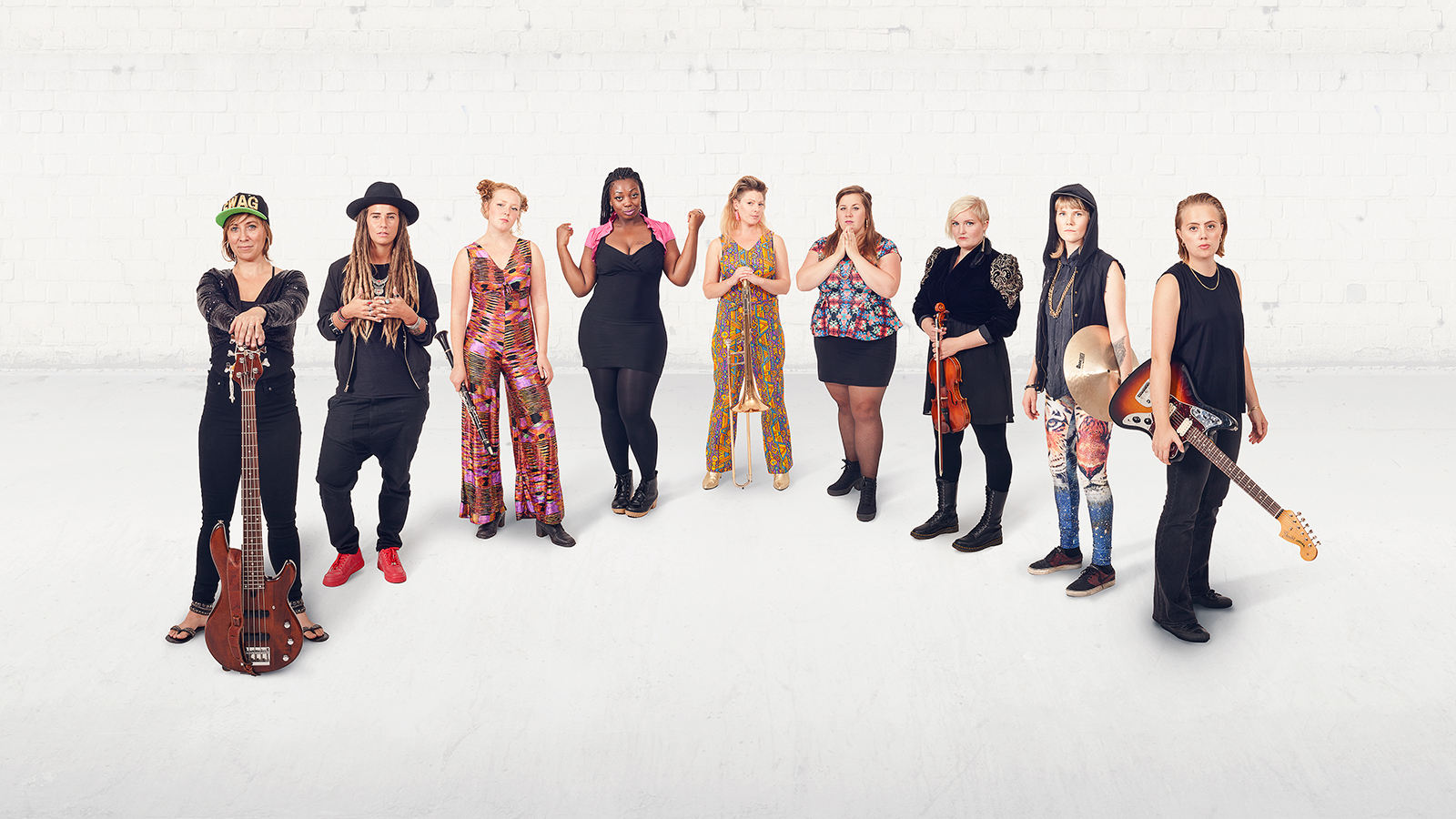 AN ENJOYABLE MUSICAL SLAP IN THE FACE!
Sallyswag is a colorful, visual live band and collective. Flashy solos, heavy grooves and feminist messages form the basis of the band, and together they make up a unique act unlike any other in Sweden. Its members have their roots in dancehall, R&B, hip hop, pop/jazz, balkan/oriental, afro beat and Swedish folk music.
It all started in the winter of 2013, when violinist and riksspelman Erika Risinger (a generally recognized badge of mastery for Swedish folk musicians) decided to form her dream band. She located the coolest and best musicians she could find. The result: the nine-piece band Sallyswag. They got together in Gothenburg and started writing music together. After a few weeks of jamming and writing, a fresh and unique repertoire was ready to move those who attended the Folk & World Music Awards in Umeå in February 2014.
Since then, Sallyswag have performed around 60 shows to great acclaim, all over Sweden, performing everywhere from small, intimate stages to huge amphitheaters. Sallyswag also performed at cult festival Urkult in the summer of 2014, where they managed to spellbind the entire audience.
That same winter, they also floored Femtastic's audience at the club Debaser in Stockholm with their feminist lyrics.
In March 2015, Sallyswag won "Newcomer of the year" at the Folk & World Music Awards. The motivation was as follows: "Norms and rules don't apply to the newcomer of the year. A spicy and unexpected mix that doesn't just challenge the taste buds when they explode. Music with roots, music that stir things up – here's a really cool slap in the face".
October 2016 saw the release of their self-titled album, which was followed by a club tour of ten cities.
"Everyone should check out Sallyswag and if they're this good after a year, then they will be able to create magic in the future."
– Tilla Andersson, Music Stage
"Beyonce goes Balkan"
– Harriet Ohlsson
MEMBERS
Sanna Eriksson – vocals
Aurelia Dey – vocal, toast, rap
Erika Risinger – fiddle
Nadia Hamouchi – trumpet
Paulina Moberg – trombone
Anna Malmström – clarinet, bass clarinet
Ebba Wigren – drums
Sanna Sikborn Erixon – electric guitar