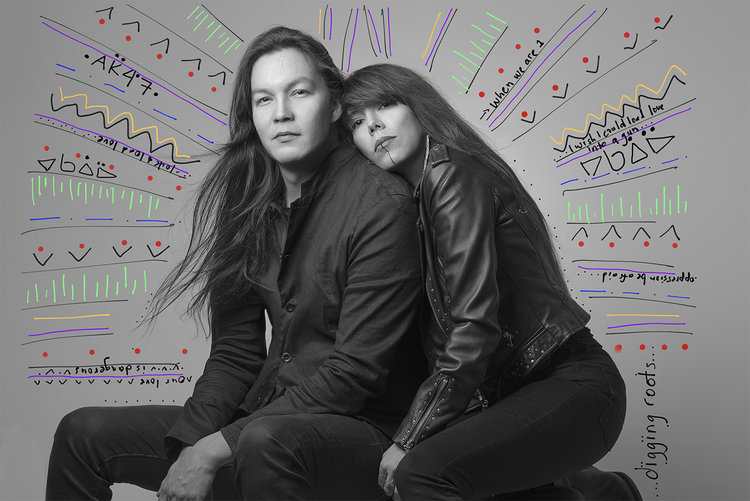 DIGGING ROOTS – roots, rock, soul and blues
Imagine an AK-47 that shoots love. The notion is audacious, to say the least. But audacity is Digging Roots' stock-in-trade. Juno winning First Nations power couple Shoshona Kish and Raven Kanatakta have built their sound on a unique musical marriage of unvarnished truth and unconditional love. Digging Roots' new song and video AK-47 has both, in spades.
AK-47 packs the punch of Digging Roots' live anthem Hwy 17, adding the romantic optimism of For the Light, the title track of their most recent album. Like the latter video, AK-47 articulates an aesthetic deeply rooted in human love, but takes the approach to a new level.
Reminiscent of Beyonce's Lemonade in its evocative visual language, AK-47 intertwines scenes of struggle and revival with colourful symbols of peace, love and connection. Collaborator Sarain Carson-Fox appears throughout, in alternating avatars of jingle dancer, warrior and activist.
Timed to coincide with Carson-Fox's Vice documentary on Shoal Lake 40, AK-47 coincidentally arrived in the wake of the Pulse nightclub tragedy in Orlando, Florida, and just prior to a much anticipated appearance at Toronto's world-famous Pride festival. The synchronicity simmers.
"I just figured out the world's problems", begins the track. "People don't make out enough."
Echoing throughout with the beat of the grandfather drum, burning with the fire of renewal, AK-47 engages Kish's lilting vocal and Kanatakta's searing guitar against the forces of darkness – and wins.
"Luminous musical statements…" – Winnipeg Free Press
"Kish's sultry and powerful vocals complement Kanatakta's bombastic guitar, rising and falling in harmony from smokey wails to whispered intimacy." – CBC
Shoshona Kish is very immersed in the cultural work, aligned with the International Indigenous Music Summit at WOMEX.