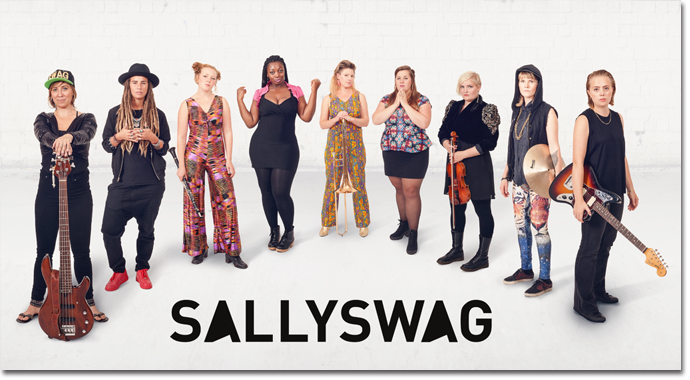 Biography
Sallyswag is a new, young and challenging world music band oozing energy, artistry and attitude. Combined, the diferent members' backgrounds in various cultures and musical genres create something entirely new. Driven musicians with roots in dance hall, rap, Afro, Balkan and Swedish folk music, and newly written lyrics in Swedish, result in a vital and important music that flls a void that has previously existed on the Swedish music scene.
Sallyswag is a vibrant live act and powerful music collective. With flash solos, heavy grooves and a feminist message, the band represents a unique act, unparalleled on the music scene: nine musicians with roots in Dancehall, R & B/Hip-Hop, Pop/Jazz, Balkan and Oriental as well as Afro-beat and Swedish folk music.
During winter 2013, violin and fiddle player Erika Risinger started her dream band. She searched for the coolest and best musicians she could think of. The result was the nine-person-band Sallyswag, who premiered on the Swedish Folk And World Music awards/Umeå Opening in February 2014. Since the premiere, Sallyswag has played around 60 highly acclaimed gigs across the country.
"Newcomer of the year" award at the Folk And World Music Awards 2015.
"Everyone should check out Sallyswag and if they're this good after a year, then they will be able to create magic in the future." // Tilla Andersson, Music Stage           
"Beyonce goes Balkan"// Harriet Ohlsson
Members:
Sanna Eriksson- Song
Aurelia Dey – Vocal / Toast / Rap
Erika Risinger – Fiddle
Nadia Hamouchi – Trumpet
Paulina Moberg – Trombone
Anna Malmström – Clarinet / Bass Clarinet
Ebba Wigren – Drums
Sanna Sikborn Erixon – Electric guitar
---
Genre: Folk rock
Territory: Global, USA and Asia
Follow Sallyswag:
Concerts
[gigpress_shows scope=upcoming artist=21 limit=50]
Listen
---