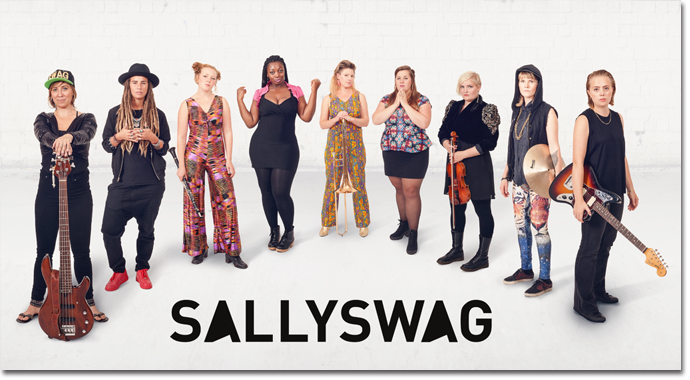 Biography
Sallyswag is a new, young and challenging world music band oozing energy, artistry and attitude. Combined, the diferent members' backgrounds in various cultures and musical genres create something entirely new. Driven musicians with roots in dance hall, rap, Afro, Balkan and Swedish folk music, and newly written lyrics in Swedish, result in a vital and important music that flls a void that has previously existed on the Swedish music scene.
The band's front woman is Aurelia Dey, a raggazonto queen from Gothenburg and Ghana. Already an established name on the reggae and dancehall scene, she is currently studying world music at the Academy of Music and Drama at the University of Gothenburg. Sanna Eriksson alternates between and backing vocals. Originally hailing from the Jämtland region, she has a voice that's smooth as silk, and a love of latin fow with cool lyrics in Spanish and Swedish. Erika Risinger handles violin and backing vocals. She is a freelance "riksspelman" (national folk musician) with one foot in the region of Dalarna, one foot in the region of Skåne, and "a hand" i Bulgaria. Freelance bass guitarist Nadina Pundins has spent a lot of time learning about the music of Mali and Cuba. Susanna Risberg is a young, but renowned electric guitarist who has currently an album out by her own jazz trio. In 2011, she received the prestigeous Jimi Hendrix Award.
Ebba Wigren is an accomplished drummer and percussionist also studying world music in Gothenburg. The band also features an impressive brass section, featuring freelance trombone player Paulina Moberg (also a member of Daniel Radich Big Band), and trumpet player/multi instrumentalist Nadia Hamouchi from Malmö, who has studied improvisational music, and has also played a lot of hip hop and R&B. The fnal member of the brass section is Anna Malmström on clarinet and bass clarinet. She's active on the folk music scene and has released an album with Kvara Kvartett.
The music that we play has evolved from the identities of the diferent members of the band. Our aim was to create a whole new organism. A hot, living, cooking melting pot of newly written material, as well as older stuf. We create, and borrow lyrics and sounds infuenced by roots music from Mali, Kuba, Haiti, Bolivia, Chile, Bulgaria, Sweden, and other places, and build our own music from that. We want our music to be an enjoyable punch in the face. We shake things up, take a lot of space, and grab a hold.
---
Genre: Folk rock
Territory: Global, USA and Asia
Follow Sallyswag:
Concerts
[gigpress_shows scope=upcoming artist=21 limit=50]
Listen
---