MTA and Hilda Sandgren recently received the award Musikörat at the Live At Heart festival, for their contribution to the Swedish live scene.  A growing contribution from a company that works a little outside the industry giants. MI met with Hilda Sandgren.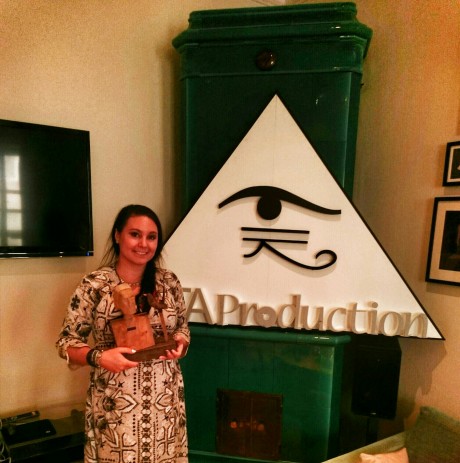 "No, no, I will act more, I've got plans…" Hilda Sandgren from MTA Production is not hovering on the target when asked if she has given up on the acting vision that once made her first start aiming for stage work. But in 2015, this is a hobby. Sandgren has been more than fully occupied with running a production company in the shadow of giants like Live Nation, United Stage, Luger and Blixten & co, establishing itself as something just between large and small in the live context. Not least is MTA an option for many of acts who don't quite fit into the rock or pop categories. "Try Hilda, she knows the folk scene" has become a common suggestion when artists try stages and scenes other than the most familiar ones. One might as well say "blues, world, or jazz". MTA also handle productions for bigger names, and with the now 80-something artists in their roster, they have passed the 20 million mark in sales.
That explains the a high pace and cramped rooms when MI meets Sandgren in MTA's premises in downtown Stockholm. MTA shares office space with the record company Playground, and in three rooms at the back of a corridor we find the half a dozen employees that during the course of one year are involved in over a thousand productions. Moreover, there is a small branch elsewhere in town, a sponsor contributing to the office where the new pet projectStockholm Folk Festival is taking shape. SFF was founded by, among others, Tomas Ledin in 2012, but now MTA takes care of the day-to-day operations, and the planning of next year's festival is already underway.
MTA has emerged as something of a "complement" to the major and more niche booking companies – how would you describe your position?
– As an outsider – and from the beginning we were a resistance movement to the preconceptions of what an agent, booking company and production company can be. In recent times, we are a complement to the large and more niche companies. Not as small and independent anymore. The important thing for us is not to get "stuck", but move forward in line with the times. We produce about 1.100 gigs per year. Previously, our market was the Nordic region but for 2016-2017, we will also do international events.
MTA turns 15 this year. What is the biggest difference, when you consider what you had in mind back in 2000 and what it has become in 2015?
– The early years: 2000-2003 I had employment – both within restaurant, booking agency and management. I created a network for myself, and learned the business. I picked up as much as I could, while writing my business plan. I didn't think there was a great need for MTA, nor that we could such a big slice of the market. I've put a lot or passion and heart into this and I still didn't think it would work out as a primary source of income, while still having fun doing it. That's the biggest difference. How well I did surprised me. Later on, I realised that this requires a great deal of strategy and patience. I really got to learn the hard way by consulting under my own name, through many ups and downs. After 2006, I realised that everything I wanted to do, MTA was able to. I started hiring staff, at first in the form of projects and, later on, full time. I enjoy creating teams. It's fun to create new opportunities for many! It's still a pleasant surprise that there are so many fun and important things to do in our industry! I get a kick out of experiencing the development and growth of us, the artists and organisers.  I like to move forward. So, all in all, I 've been pleasantly surprised. The most important thing that I've learnt, is that you have to create a good environment to perform, for both artists and employees. The efficiency of all digital platforms and new means of communication has surpassed all expectations I had in 2000.
What did you do before MTA?
– I worked as a photographer's assistant and had quite a few bands and musical projects, while dreaming of becoming an actress. I applied for drama school a couple of times but wasn't accepted. I also had a lot of energy which I put into a theatre group of my own, where we set up plays. That way I learned the hard way, and got a stage to play on regardless. Once I was up and running there, I discovered how to produce an event from start to finish. Alongside this, I worked with local TV in Täby, took drama classes and started producing anything and everything. At this point, MTA was born. I built a studio and started recording artists. That way, I ended up at United Stage as a coordinator. I learned a lot dusing those years. I then worked with Marie Dimberg at D & D Management and that's where I had an "A-ha" moment and learned the importance of artist management. I then went on to work with commercials for TV4. One day Joe Labero called to tell me he was looking for a Production Manager for his company. I decided to join, and became a freelance consultant. I got back both to the stage floor, doing props and assisting the magician, but also to the technical crew with tasks like spotlighting, sound engineer, film maker and so on. Above all, I got to plan everything that needed to be done! I went to Russia and the USA, as well as Norway, Denmark and Latvia. A lot of the events were for Christmas shows and openings, as well as small dinners. The job challenging in many ways. More than anything else, it made me fearless.
From our perspective it seems like MTA established itself definitely with Sofia Karlsson and the show Jul i folkton? Would that be a correct assumption?
– Joe Labero taught me to recognise unique niches. When Sofia called me, I felt immediately that MTA could found its niche by getting a "magical commercial grip" on folk music! It was like a trampoline. She had tremendous energy and talent. I identified Jul i Folkton as a dream project after working with Julgalan in various sports arenas. I could see the contrasts between these worlds and realised that there was a need for an event like Jul i Folkton. I like finding new paths, so I did, examplified by these two projects. Once could say that it was the start of a virtuous cycle of opportunities coming my way. Most of which I took advantage of.
When considering the number of employees today, turnover, number of artists, etc – how big is MTA, and how big can MTA get, realistically?
– We are now five full time employees, one part-time and three consultants. Our annual turnover are about 20 millions per year.  The number of artists is around 80. I think we'll aim to be around 10 full-time employees and 100 artists. Moving forward, I think we are going to work more with export, which in turn means that we need to work with more artists. There are a lot of venues around the world and the need for live music is great. Last year we had a total of 1100 gigs and I think that number will increase to 1500 for 2016.
A few years ago, MTA started a record label together with Sofia Karlsson. Was it a coincidence or do you have other similar plans?
– We started it because we wanted to be the ones in charge, we wanted to decide everything ourselves. It was no coincidence, but even an important step. We plan to – to an even greater degree – release many different artists on this label in the future.
2012 was the start of Stockholm Folk Festival. How did it happen? How was Tomas Ledin involved?
– The festival was initiated by Tomas, Esbjörn Hazelius and Esbjörn Mårtensson. I signed up a lot of the artists that I represented at the time, and Tomas wanted me to be part of the festival. In 2013, I joined him and became a co-owner. It's both a folk and world music festival and it's the only one of it's kind in Mälardalen. Hesselby slott is a unique place with a perfect palace park for the festival. Our goal is that the festival will take root and become a tradition over time. We want to shed light on the music, culture, dance, and such that may not get a lot of attention in the media otherwise.
Describe the feelings when you won the prize Musikörat recently during Live At Heart…
– I think it's extremely important to be made visible and awarded by getting "Musikörat". It's proof that what we do is really needed. The goal of the festival is to create a musical oasis of diversity and equality, for all of us. We aim for the festival to be as inclusive as possible. But there is still a lot to be done here and to get confirmation by receiving this award is like a pat on the back for all of us. There are a lot of people involved in the festival, about 100 volunteers, ten in the management team, six novices and nine summer workers, then there's the whole castle with their organization, and the cooporation between them and us is very important. Everyone who works with the festival shares the award.
Any other festival plans?
– We plan to make another festival at the castle during the winter. A chamber festival called Hesselby Chanber Music Festival, planned for March 1-6, as early as next year.
Within the music companies and publishing industries a lot is overshadowed by the paradigm shift to streaming. Do you have any corresponding shift in your industry?
– Yes, there are more ticket providers than ever before. It's a about winning the consumer in every possible way and try to find new needs to meet. We want to reach out to both the loyal and the new audiences. Now, more than ever, is it important to touch people and work with passion and creativity to create desire and curiosity. This is something we in the live industry try to package in many different ways in order to reach an audience. This is something that we see a lot more of today than we have previously done.
From the standpoint of a novice, I constantly hear opinions about the ticket portion of your industry – is the ticket market a question mark as you see it?
– Not a question mark, but I think we will see a lot of innovations to meet new needs. Needs that we have created and taught the consumer, all in line with the changing times.
Do you find that there is some players missing in your industry – for example, in any genre?
– I think we're need more management, as well as more venues and organizers.
What is the future plans?
– Recently, we have become a multi-cultural team. Staff from both Norway, Portugal and Finland. This helps the company to better handle the cultural and linguistic codes. The culture within the company is more creative and fun. One thing I've focused on is hiring every other girl and guy, I think it's a very good way to keep things balanced. We have become increasingly more digitalized, which has made us both more efficient and better at seeing the possibilities in the deals. That's why we have so much energy to put into working with export. We work with trade fairs and have showcases abroad. This week we attend Folkelarm Oslo to showcase three of our artists: Hazelius/Hedin, Skenet and the Sami band Ára. Our goal is increased cooperation with Norway and the Nordic region. We will also attend Womex and Visa for Music in Morocco, aiming for a better cooperation globally. In 2016 the focus will shift towards the United States and Canada by attending Folk Alliance in Kansas, etcetera. MTA will be the perfect partner for all genres. I also aim to further develop Stockholm Folk Festival and I will try to establish Hesselby slott as a venue and arena.
Lars Nylin/Musikindustrin.se 2015-09-28