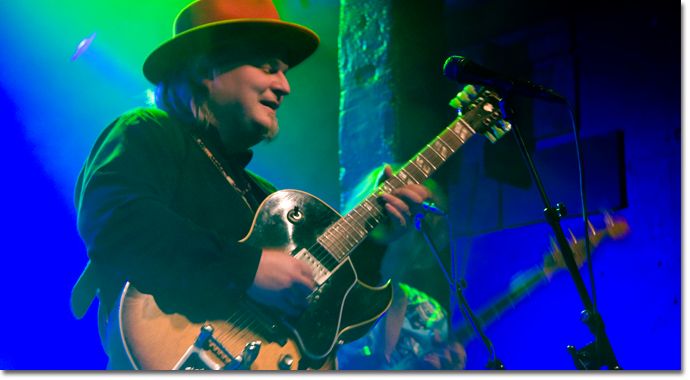 Biography
When he was ten, Knut Reiersrud recorded Miles Davis and Mikael Urbaniak from the radio on his sister's cassette player. Two years later, he and his brother bought themselves guitars after seeing Buddy Guy and Muddy Waters on TV. At eighteen, Knut became an overnight sensation when the same Buddy Guy and Otis Rush, having heard him for the frst time, embraced him and immediately invited him home to Chicago.
Knut Reiersrud (1961) is known to most people as a guitarist. It's now over thirty years since he had the honour of playing with his legendary heroes. Since then he has played at 6,000 concerts, made more than 300 records, and 14 under his own name, and in between times learned to master ten diferent string instruments. The problems arise when you try to explain what kind of guitarist he is. A man who always travels around with eight guitars because they have been tuned diferently according to where the music comes from is versatility personifed.
Reiersrud's unique talent shines out through all this versatility. In some inexplicable way, he creates an aura around the notes that is pure Reiersrud, whether he is playing African, Indian, Norwegian or American folk music.
His treatment of string instruments, both musically and visually, is considered to be a total experience. The Norwegian King Harald said after a Reiersrud concert in South Africa that he had never seen a musician physically disappear into an instrument in a way like Reiersrud did.
President Tabu Mbeki ofered Knut a South African passport – for a return visit.
With his huge experience – 14 solo albums, participating in over 200 recordings and tours on all continents of the world – he is almost a living legend.
---
---